Just in – This is a press release from campaign with link to Joe Lhota's first TV ad for campaign for NYC Mayor. We post for your viewing pleasure.
Friends,
In case you missed it, our campaign released our first television ad today.  The commercial, entitled "Joe is New York," will air on television stations throughout New York City starting Thursday.  You can watch the ad by following this link, or by clicking the picture below.
But we need your help to ensure we have the resources necessary to continue spreading Joe's vision of a prosperous, thriving future for all New Yorkers.
Sincerely,
Kevin Tschirhart
Political Director
Joe Lhota for Mayor
Thank you to all our members, neighbors, elected representatives, candidates, he Boy Scouts, and all the folks who came out to remember and give thanks as well as appreciation for those who have perished protecting America. We remember those missing in action as well as those currently serving in the armed services. Let us keep this tradition going. Mark your calendars for next year.
See the link in Daily News Reported today:
"For a conference that claims to be pro-women, they have a real life example and now no one wants to stand up for women who have been harassed," Malliotakis said of the Democrats. "They're just embracing the status quo." see http://www.nydailynews.com/blogs/dailypolitics/2013/05/ny-assembly-gop-women-to-call-for-sheldon-silver-to-quit-as-speaker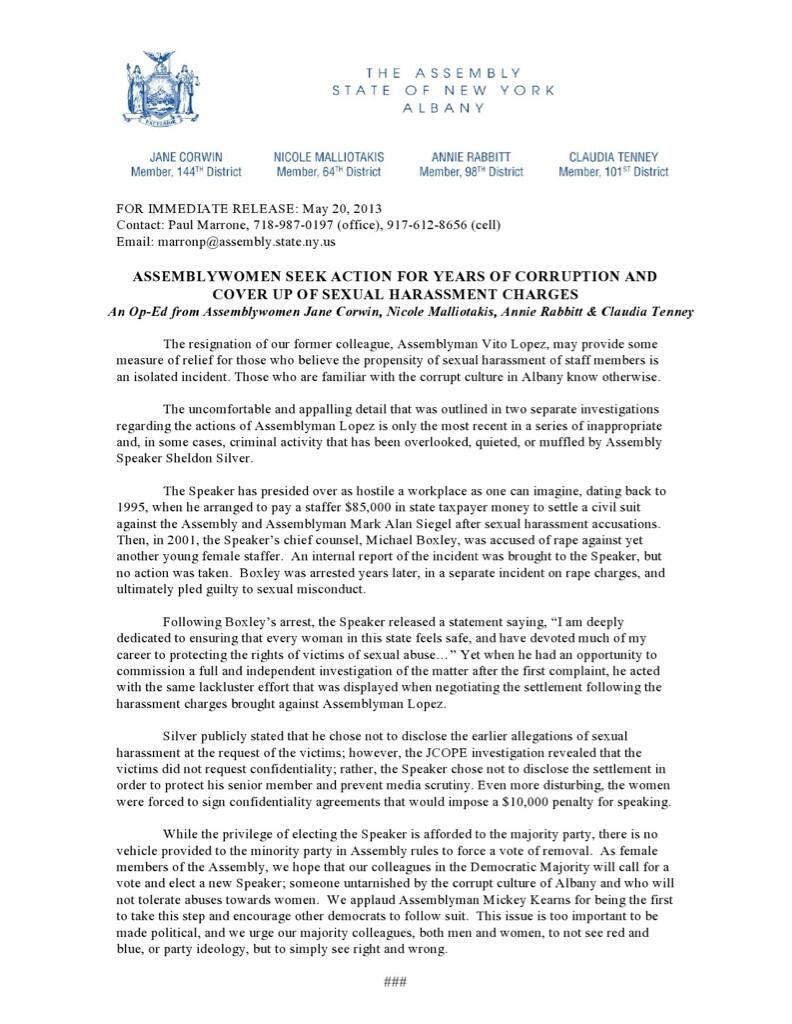 Monday, May 21, 2013. As of 9 a.m. Assemblyman Vito Lopez resigned from the NYS Legislature after an investigation revealed details of the allegations of sexual harassment and impropriety with several women. The resignation comes after the Assembly Speaker Sheldon Silver finally mentioned an intention to move to expel Lopez,as opposed to what the speaker did when some of the allegations arose- which was to pay off the accusers in hopes of not embarrassing the Assembly ( so how did that work out?)! Questions abound as to whether Lopez will run for the NYC Council and how the Assembly seat he vacates will be filled. Arguably since the Governor did not call a special election, Lopez himself could have appointed a successor – but that certainly would have taken a lot of chutzpah. Brooklyn Democratic County Chair Frank Seddio has urged Lopez not to run for the Council.
Silver has now called for the formation of an independent body to handle complaints against legislators. Such would be another body or layer of government to handle what should have been handled appropriately by the Speaker.  Apparently, it would be necessary since a complainant cannot get respect or resolution from the Speaker's office.
Not one to let a crisis go wasted, Governor Cuomo has now jumped on the bandwagon stating that this whole mess supports his "women's equality" agenda. If Cuomo is interested in women's equality, he would remove his radical abortion expansion clauses from his proposal, but as is the want of this governor, grand delusions, illusions and allusions, are the strategies of the game.
Stay tuned to see what else oozes out of the Albany cesspool!
We have said it before and we will say it again… the embroiled Assemblymember, disgraced former Brooklyn Democratic boss Vito Lopez should immediately resign. His continued thumb in the eye of his constituents and the body politic, including the already beleaguered and ethically challenged State Assembly, is deplorable as are the charges, including sexual harassment, that have been brought against him recently and over his career. It is not time for Lopez to bring his sideshow of shame to the New York City Council. It is time for him to retire.
The Brooklyn Conservatives invite you to commemorate Memorial Day – Monday, May 27th. To honor of this day and the Soldiers, Sailors, Marines, Coasties  and Airman t, the Party will again have it's  annual MIA/POW flag raising on Shore Road at 81st street (Lookout Point) at 10:00 AM. Following the ceremony, we will join the 146th Kings County Memorial Day parade which will be forming at 87th Street and 3rd Avenue at 11:00 AM. The line of march will follow along 3rd Avenue, ending at the John Paul Jones park near the base of the bridge. A ceremony of remembrance will then be held to honor all those who gave their lives in defense of our freedoms.
Your presence at one or both of these events would be appreciated. Let the community and America know that we care about our service men and women.
33 members of the NYC Council want to give noncitizens the right to vote in municipal elections. As long as someone is a resident of the city for 6 months  at the time of voting, he/she can vote for Mayor, Comptroller etc. Permanent residents (green card holders) would have the same rights as citizens. How little do these pandering opportunists think of the privilege of citizens? This is not school board elections folks.. Conservative  Republican members of the City and State delegation released the following today:
FOR IMMEDIATE RELEASE
CONTACT:
Paul Marrone
718-987-0197 (office), 917-612-8656 (cell)
May 9, 2013
The New York City Republican Delegation to the City Council and State Legislature issued the following statement in response to New York City Council Introduction 410 that would allow non-Citizens to vote in New York City elections:
"We are offended by the attempt from members of the New York City Council to give non-United States citizens the ability to vote in New York City elections.  The right to vote and select those who represent us in government is one of the most cherished and important privileges of our citizenry.  To extend this privilege to non-citizens not only devalues United States citizenship but is inconsistent with New York State Election Law which states that 'no person shall be qualified to register for and vote at any election unless he is a citizen of the United States…'"
State Senator Martin Golden, State Senator Andrew Lanza, State Assemblymember Nicole Malliotakis, State Assemblymember Joseph Borelli, City Councilmember James Oddo, City Councilmember Vincent Ignizio, and City Councilmember Eric Ulrich.
###